Robert L. Huddleston, III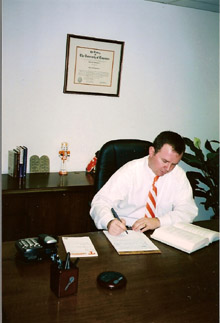 Robert L. Huddleston, as the founder and namesake of the Firm, is a native Tennessean, born in Kingsport on the State's bicentennial. He is the son of Bob, an electrical engineer, and Cindy, a paralegal, of Jonesborough, Tennessee. Mr. Huddleston attended high school at Sullivan East High School in East Tennessee and at Cockermouth School in Cockermouth, England, at which time he earned a 4.0 GPA and 14 varsity letters. Mr. Huddleston attended East Tennessee State University as a member of their Honors Program. At ETSU, he was a member of the men's tennis team, the executive editor of the East Tennessean, an officer in Omicron Delta Kappa national leadership society, and a member of several other campus organizations. Mr. Huddleston earned his Bachelor of Science in Chemistry from ETSU in 1998, graduating cum laude.

After two years in Chicago studying medicine (where he served as President of the student body) and working at the Sears Tower, Mr. Huddleston returned to Tennessee in 2000, this time as a student at The University of Tennessee College of Law. After his first year of law school, Mr. Huddleston was chosen - along with law students from Yale, Harvard, and other elite law schools - as a Blackstone Fellow by the Alliance Defense Fund.Mr. Huddleston spent a portion of his second year of law school at George Washington Law School in Washington, D.C., at which time he also worked for Congressman Ed Bryant and the Senate Governmental Affairs Committee under Senator Fred Thompson. For his work during his final year of law school, Mr. Huddleston was honored for academic excellence in Advanced Constitutional Law.

After receiving his Doctorate of Jurisprudence from The University of Tennessee, Mr. Huddleston moved back to Washington, D.C., as an employee of the National Rifle Association's Office of the General Counsel. Mr. Huddleston is licensed to practice law in Tennessee and West Virginia. He has been a member of the American Bar Association, the West Virginia Bar Association, the Blount County Bar, the Sevier County Bar, and the Knoxville Bar Association. Mr. Huddleston has been honored by the Tennessee Supreme Court multiple times as an Attorney for Justice for his role in the juvenile courts of Tennessee, and he has finalized hundreds of adoptions. Rob is an active member of Green Meadow Country Club. He is the father of two boys, Leo and Wil, both of whom play golf and are excellent students in the Maryville School System. Mr. Huddleston remains politically active, having worked dozens of political campaigns, including those of Ed Bryant, Bill Jenkins, George W. Bush, Lamar Alexander, Van Hilleary, Fred Thompson, and Bob Dole. Mr. Huddleston also authored a successful blog, VOLuntarilyConservative, which was featured on CNN and in various Tennessee publications.
Angela R. Huddleston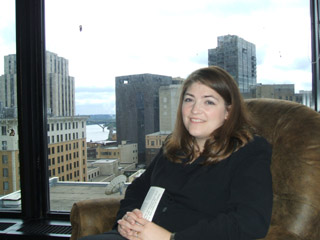 Formerly with the Firm (2006, 2008-2013) Angela was born in Hopkinsville, Kentucky. After graduating in the top ten of her high school class, she continued her studies at Vanderbilt University. While at Vanderbilt, she earned a B.S. degree in Human and Organizational Development. Angela then chose to continue her education at The George Washington University Law School, one of the top twenty law schools in the nation. During her legal studies, Angela became a Blackstone Fellow with the Alliance Defense Fund and served on the editorial staff of the Public Contracts Law Journal.

Angela has worked in several diverse fields. After working for the Marriage Law Project in Washington, D.C., she was employed by PriceWaterhouseCoopers, one of the most prestigious accounting firms in the world. Angela then returned to Knoxville to work as an associate for a renowned East Tennessee civil litigation firm. In June of 2006, Angela first joined The Huddleston Law Firm. After a short recruitment period, Angela was hired by the Tennessee Department of Children's Services as an assistant general counsel. Upon the birth of her son, she returned to The Huddleston Law Firm as a partner where she focused on juvenile and child support matters. Angela then returned to the Tennessee Department of Children's Services, where she remains to this day.

When not practicing law, Angela enjoys hiking in the Smokies, golf, and attending UT sporting events. Angela also loves spending time with her sons, David Leonidas Huddleston and Samuel Wilson Huddleston. Beginning in August of 2006, Angela served a term as the elected Republican State Executive Committeewoman for the 6th Senate District of Tennessee.